Gunbroker Auction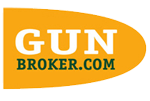 Important please read the instructions here completely before checkout.
This payment method is ONLY for auctions sold by SGAmmo on Gunbroker.com

Enter the total amount for your Gunbroker.com auction with the shipping charge included in the amount, as quoted in the payment options email you received. Then add this product to the shopping cart. During the checkout process, you must enter your Gunbroker auction number in the "Comments" box and select 'shipping included in price'. If you want to purchase additional items other than the gunbroker auction please contact us via email to work out the details.