Thank you for subscribing to the SGAmmo.com newsletter. We recently changed the layout on this newsletter to allow a larger picture and better fit on certain mobile devices so expect to see a difference in the images and format.
The Holidays are here and at SGAmmo the warehouse will be closed from the end of the workday on the 23rd thru Saturday the 27th in order to allow for our employees to spend some extended time with family this Christmas. We will be back early on Sunday the 28th to get caught up on shipping orders placed during this time by end of day Monday. Expect some delivery delays on orders placed at this time and during the weeks of Christmas and New Years as UPS is taking 4 extra days off at that time which will slow transportation of shipments in route and delay acceptance of new shipments.

If you have trouble viewing this email you can see the newsletter at this URL address: http://www.sgammo.com/holiday-shipping-notice-223-ar15-ammo-308-match-545x39-50bmg-pistol-ammo-and-so-much-more

Here at SGAmmo.com we love ammunition, and our warehouse is 16,000 square feet jam-packed with pallets, stacked and racked with all sorts of great ammo options for sale. A few stand out ammunition items that I thought we of extra good value or otherwise of interest are listed below including Wolf Gold Brass case 223 Remington ammo for sale at a cut to the bone price, ADI 308 Match at almost half of MAP price, discounted bulk 40 S&W caliber government contract ammo available in FMJ and JHP bullet types, several types of discounted bulk 45 Auto ammo for sale, 7.5 Swiss GP11 surplus ammunition for K31 rifles. We also have many other interesting types of ammo and other items of good value on our website so please take a few minutes and look over the online catalog at www.SGAmmo.com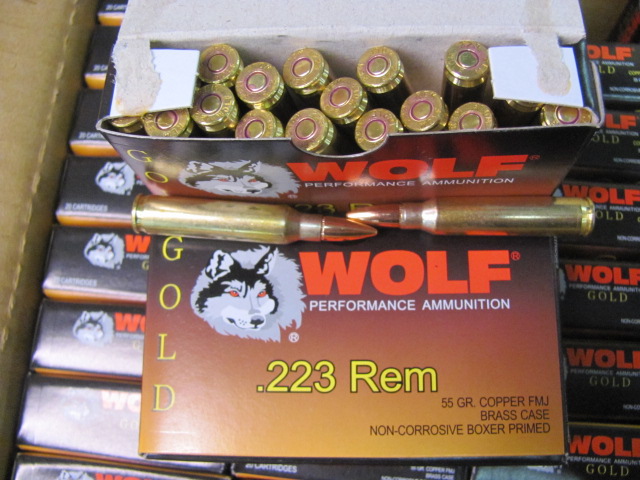 1000 round case - $279.50 + 16 shipping

This 223 Rem Wolf Branded ammo is high quality brass case ammo made in Taiwan and offers smooth function, reliability and very good accuracy in semi-auto rifles. Featuring reloadable brass cases, sealed boxer primers, non-corrosive, non-magnetic 55 grain bullet. A great value for this type of ammo in today's market at a price that's so low its affordable to shoot or just stocking up. Ideal ammunition for use in AR-15 rifles with the application of target practice, range use, all purpose ammo, etc. Buy Wolf ammunition with confidence, Wolf ammo is backed by the importer with a 100% satisfaction guarantee, if you are not happy with the products performance Wolf will buy it back for a full refund.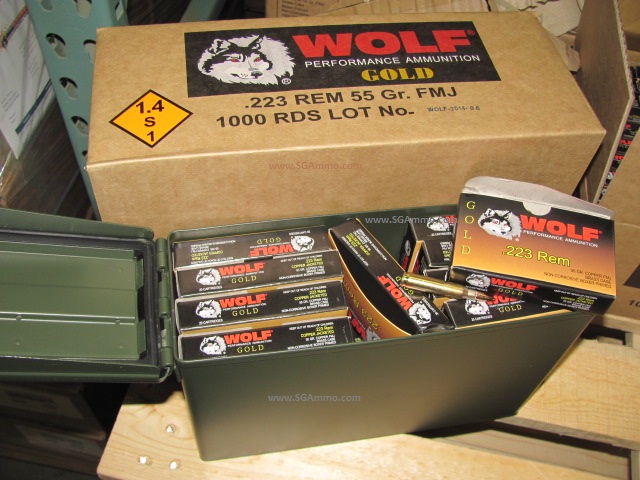 $149.50 + 14 shipping (same ammo as above packed in an ammo can)

Packed 25 boxes of 20 rounds each, in a M19A1 ammo can with rubber gasket seal (30cal size)
$219.50 + 14 shipping

This ammo is early 2013 production ammo from Ukraine LCW factory made before the civil war disrupted supply. The importer held this ammo back and finally released it in the last few weeks. Nice steel case ammo with non-corrosive berdan primers, poly coated cases, and bi-metal jacketed lead core bullets that are magnetic.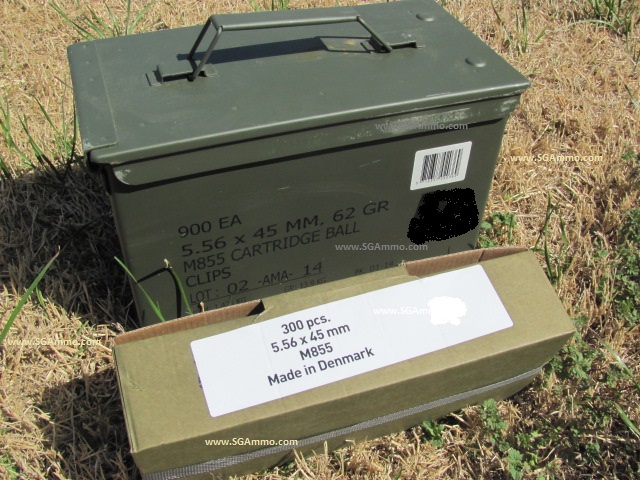 $349.50 + 18 shipping - Running low on this "True NATO spec 5.56" ammo
2+ cans at $339.50 each and 2 cans ship in one package for extra savings

Here we have Danish 5.56 M855 True NATO mil-spec ammo with brass case, non-corrosive boxer primer, and recently produced military surplus ammo from AMA Denex in Denmark. Nothing commercial about this ammo, it is the real deal, military grade. Nice clean ammo in military contract packaging. The bullet is a 62 grain steel core SS109 type steel core projectile with a copper jacket to protect your barrel. This is the perfect ammo for your AR-15 rifle and comes in sealed packaging that is water and air tight, ideal for long term storage or storing in any place where conditions may not be ideal. Our customers have said that this is some of the finest and most accurate military surplus AR15 5.56 ammunition ever to see the US market. Manufactured to perfection by AMA and offered to the US commercial ammunition market by SGAmmo.com at a very low price due to a special purchase I made on this high-end NATO spec 5.56mm M855 ammo. Don't miss out, when this ammo is gone it may be a long time before another batch of true mil-spec certified 5.56mm ammo for your AR rifle will be available that you know is genuinely made to NATO spec.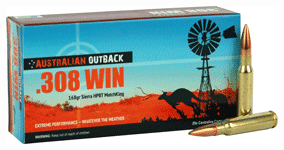 $149.50 + 12 shipping
What a bargain !!! The importer made a sacrifice deal on this ammo which was retailing at a MAP price of $27.75 per box, thanks to the closeout deal and SGAmmo buying power I have been able to secure a lot of this high-quality match grade 308 ammo at almost half the original MAP price. Do not miss out on this limited supply deal on Match grade 308 Win ammo that offers performance that meets high expectations and at an affordable price.
Remember - Shipping cost is based on total order weight and is not fixed per case, so you can combine multiple items within one package for shipping discounts. A few examples, Ship 2 cases of this for $15 to bring the average shipping cost per case to $7.50, or ship 5 cases of this ammo for $26 to bring shipping cost per case down to $5.20.
$429.50 + 28 shipping ... Soon to be gone from the market forever
2160 Round Crate- 5.45x39 Russian Military Surplus 7N6 52 grain FMJ Ammo for sale at SGAmmo.com, the best website to use for buying 5.45x39 Ammo for your AK-74 at low prices with in-stock ammo available for purchase. Finest Quality Russian military 5.45x39 ammo made in the1970s, mostly 1975-1979. True mil-spec 5.45 surplus ammunition with a steel core and imported 'pre-ban' before BATF ruled this ammo to be armor piercing. This is some of the finest quality ammo ever made in 5.45x39 caliber featuring a steel core 52 grain bullet, a lacquer coated steel case and a corrosive berdan primer for ultimate performance reliability. This 5.45x39.5 ammo come in sealed cans of 1080 rounds, 30 rounds per package. this 5.45x39 AK-74 ammo is perfect for long term storage in hermetically sealed cans that keep your ammo like-new for generations to come. If you are looking for the the best quality original ammo for your AK-74, this is the stuff.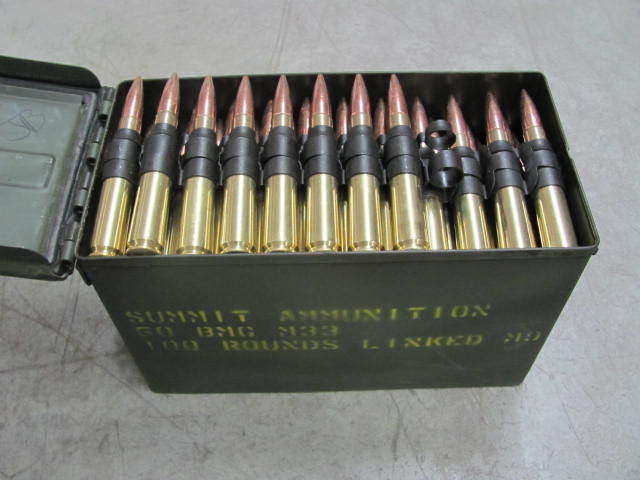 $279.95 + 18 shipping
Once fired military brass and was loaded with a demil m33 projectile. The linked were unfired and the ammo cans are refurbished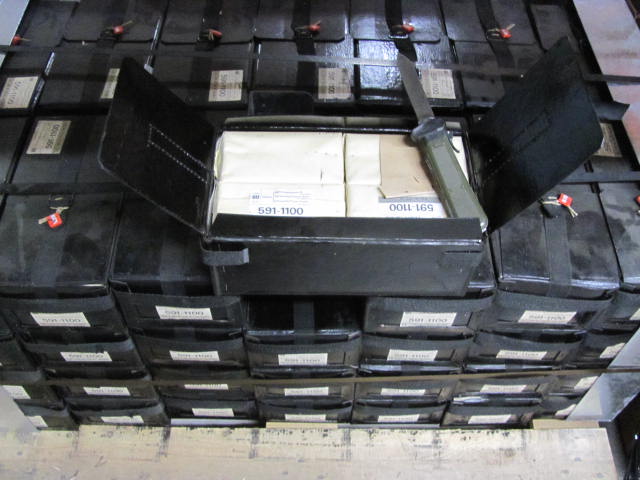 $239.92 + 16 shipping - We sell this by the brick as well
Swiss Military 7.5x55 GP11 ball ammunition. This is some of the finest quality ammunition every produced. Extremely accurate, reliable and non-corrosive. Mostly made in 1982, but possibility of other years of production. Comes 10 rounds per box, 6 boxes per brick 8 bricks per case. The Cartridge features a brass case and Berdan primers and Cupronickel jacketed bullets with lead core. Cupronickel is an alloy of copper that contains nickel and strengthening elements, such as iron and manganese and is magnetic so a magnet does stick to the bullet. Bullet weight per the importer is 174 grain.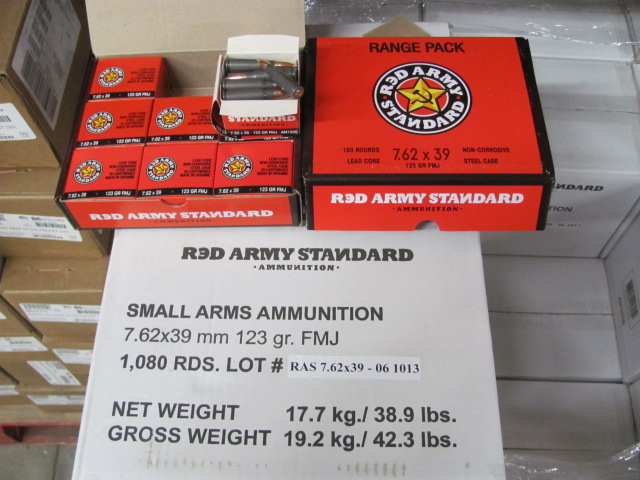 $239.94 + 25 shipping
New commercial ammo manufactured pre-war late 2013 to early 2014 in Ukraine before the Factory was overrun in the conflict. We stashed some of this ammo in the back of the warehouse this summer and finally got a chance to dig it out. This ammo features a steel case, non-corrosive primer and with a magnetic FMJ bullet with cool looking packaging in the 'range pack' as an added plus. Great bulk ammo for your SKS or AK-47 rifle available at a low price per round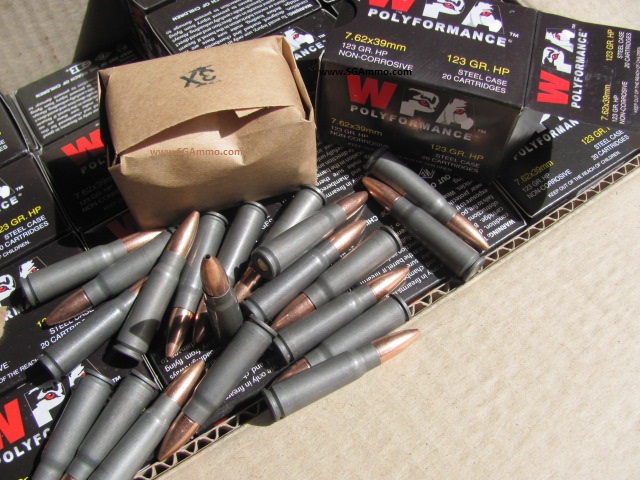 $219.90 + 22 shipping
This Wolf 7.62x39 ammo offers a great value to the high-volume shooter of AK-47 and SKS rifles. This is all-purpose ammo made for hunting, target practice, and general shooting. The hollow projectile in this load makes a great low cost hunting ammunition option. Have a blast at the range shooting ammo for cheap prices with wolf and buy Wold ammo with confidence. Wolf offers a 100% satisfaction guarantee direct from the importer. If you are not happy with your wolf ammo, the importer will buy it back and even pay for return shipping. This 7.62 ammo features steel cases that are poly coated for easy feeding and extraction, a non-corrosive berdan primer, and magnetic JHP bullet with a lead core. If you love to shoot your AK's there will never be a better time to get stocked up on 7.62x39 ammo than today while the market conditions offers low ammunition prices and lots of in-stock selections to pick from. Make sure to review all the 7.62x39 ammo we have fore sale at SGAmmo.com before you buy, the online store with the best selection of 7.62x39 AK ammo on the internet.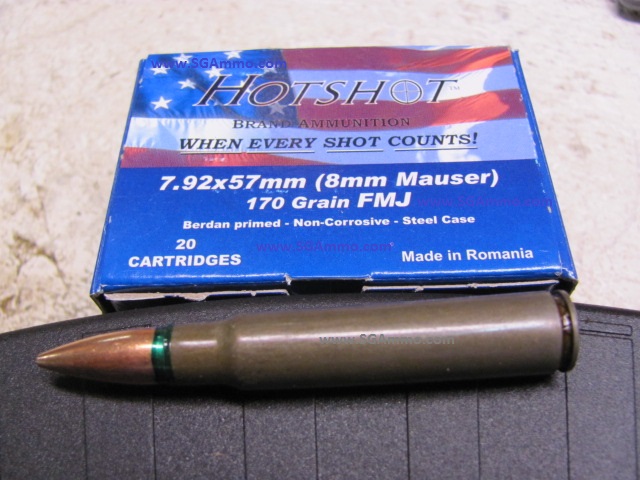 $394.20 + 22 shipping ... We also sell this ammo by the box
This ammo is lacquer coated steel case, sealed bullet and primer pocket, Berdan non-corrosive primer, FMJ lead core with a magnetic bi-metal bullet jacket. Manufactured in 2014 in Romania under commercial contract for the US market. This is ideal ammo for long term storage, all weather performance, or just for taking your Mauser rifle to the shooting range. A great deal for new non-corrosive bulk 8mm ammo for sale.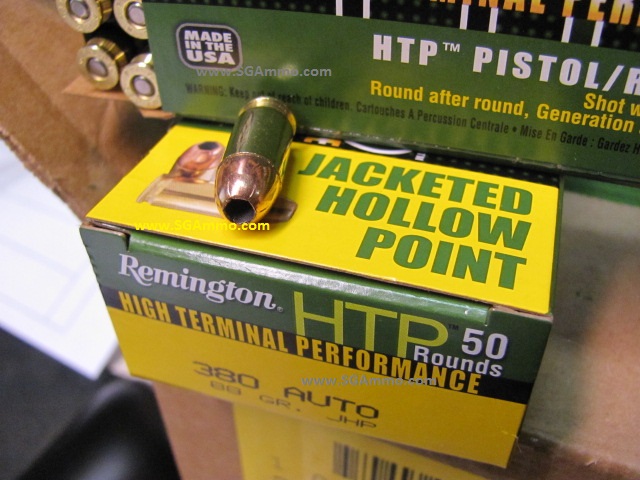 $179.50 + 12 shipping
500 round case of 380 Auto 88 Grain Jacketed Hollow Point Remington HTP Ammo item number RTP380A1. This is economically priced 380 hollow point ammo for personal protection or all purpose shooting. Do not miss out on this 380 Auto pistol bulk hollow point ammo bargain that is priced low like a target load with the added value of a hollow point projectile without the extra cost.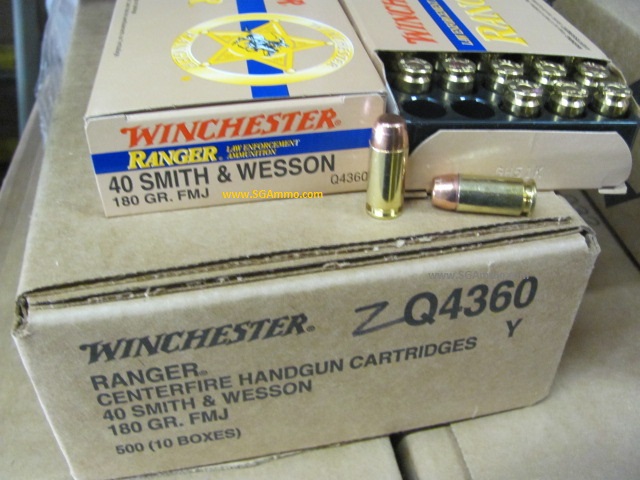 $149.90 + 14 shipping .... RUNNING LOW
This ammo is a government contract overrun product manufactured by Winchester for training / target practice applications. These sort of government contact leftovers are some of the best values for low priced range ammo we get to offer here at SGAmmo.com. Ammunition like this only comes around once in a while so supplies are limited. If you like high quality ammo at a discounted low price then this might be the ammunition for you. This ammo is one of the best values we have been able to offer recently in ammunition of the caliber .40 S&W. At SGAmmo.com we know that no one wants to wait for something they have ordered. With that in mind we only accept orders for in-stock ammo that is ready to ship right away and promise to make quick work of your shipment and get it out the door via UPS and heading your way within 1-2 business days from when you place it.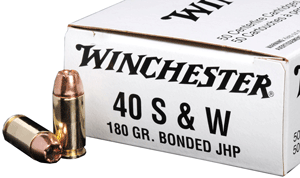 $189.50 + 14 shipping
500 rounds of 40 cal 180 grain Bonded Hollow point Winchester Q4369 ammo. Highest quality government contact overrun ammo available at a discount price. WINCHESTER Q4369 SPECIAL GOVERNMENT "THREE LETTER" AGENCY 40 S&W 180 GR. BONDED JHP. Buy Bulk 40 Ammo for sale at SGAmmo.com at a low price. Cost is comparable to what normal FMJ target ammo goes for with the added value of a premium bonded hollow point bullet.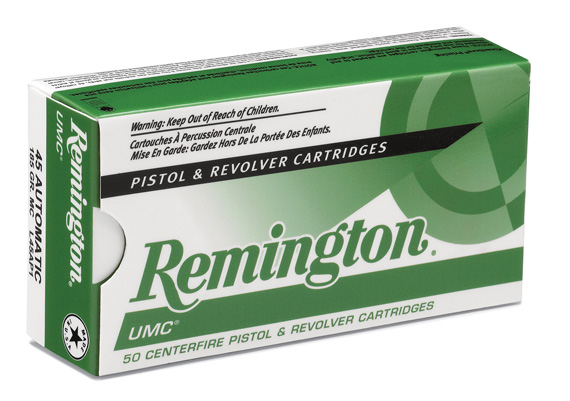 $179.50 + 15 shipping
A 500 round case of Remington 45 Auto / ACP target ammo with a 185 grain FMJ bullet and a reloadable brass case for sale. 50 rounds per box, 500 rounds per case. 45 Automatic / ACP Remington UMC FMJ 185 grain ammo for sale at SGAmmo.com, home of the best deals online for buying bulk ammo. We only accept orders for in-stock ammo that is ready to ship, and provide quick efficient order processing and carefully packed shipping of your ammunition by UPS ground. Make sure to review all my .45 Auto pistol ammunition and other products before you buy, we stock one of the best selections of popular types of pistol, rifle and shotgun ammo for personal protection, law enforcement, and target practice / range use. Remington UMC 45 ACP #L45AP1 ammunition is one of the ideal ammo choices for use at shooting ranges or general target practice. This ammo is brass case boxer primed, reloadable, with a range-safe copper hollow point lead core bullet that is non-magnetic, a great low cost option for the high volume target shooting sportsman. UMC ammo represents one of the lowest price options and best values for ammunition made in the USA. High quality bulk 45 ammo for sale at a cheap price.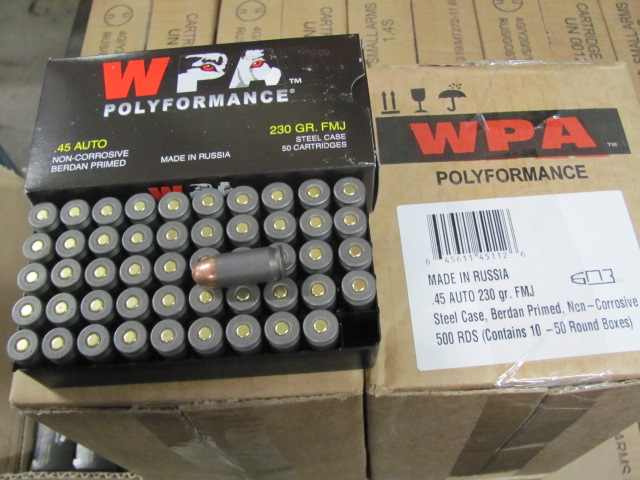 $144.90 + 15 shipping
500 round case 45 Auto 230 grain FMJ Wolf WPA Steel Case PolyFormance Ammo for sale. Made by Barnaul featuring a non-reloadable polymer coated steel case, non-corrosive primer and magnetic FMJ bullet. Wolf ammo is the broadest and most popular Russian made ammo product line. This ammunition is backed by the importer with a 100% satisfaction guarantee. Wolf is the ideal ammo for high volume target practice and range shooting events. You save money with Wolf ammo by reaping substantial savings on the cost of the ammunition you use. This ammo is new production, Russian made by Barnaul, one of the best factories for quality ammo from Russia. Wolf Ammo goes bang every time and shoots straight and you don't have to waste your time picking up brass that you know you are never going to reload. Wolf ammo is one of the lowest cost ammunition options available and a great value. As the owner of SGAmmo I have sold Wolf ammo since the day I started in the ammo business way back in 2001 and its a great product for the guys and gals that like to shoot a lot for the lowest overall cost and who do not reload. We are proud to offer Wolf products and believe you, our clients, will love shooting this ammo if you give it a try. Make sure to review all my ammunition deals at SGAmmo.com where we are committed to offering the best ammunition at some of the lowest prices for ammo on the web.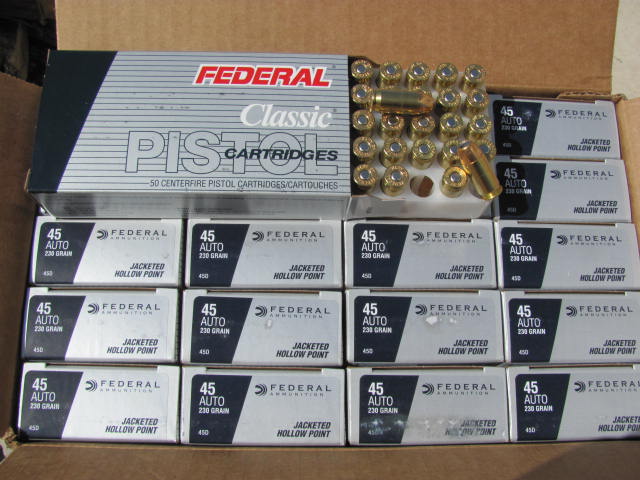 $399.00 + 25 shipping
50 rounds per box. 20 boxes per case. Please note this ammo may come in a plain white box with label or the pictured classic box, but the ammo itself is the same thing. 1000 round case of Federal Classic Sku # 45D, 45 ACP 230 grain jacketed hollow point caliber ammunition available for sale at a special discount price. This ammo is a law enforcement classic that has stood the test of time and service as Federals basic Hi-shok hollow point ammo that has proven itself for decades as a go-to round for law enforcement officers, security agents and civilians. This Ammunition is available at SGAmmo.com at a considerably discounted price when compared to the commercial ammo alternatives like SKU # C45D. Featuring a brass case, copper jacketed 230 gr HP bullet and a boxer primer, this ammo gives you the chance to stock up on LE grade hollow point ammo for about the same price as regular FMJ target grade ammunition. At SGAmmo.com we strive to offer value in both price and delivery with ever sale. We offer some of the lowest prices for ammo on the web with consistent quick delivery of your order, in-stock, well packaged and delivered by UPS.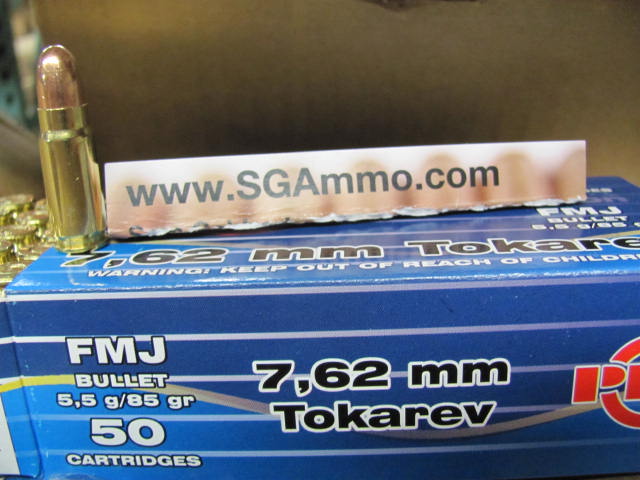 $169.50 + 14 shipping
Buy bulk 7.62x25 Tokarev FMJ ammo made by Prvi Parizan with Non-corrosive boxer primers and brass cases, ammo item number PPR70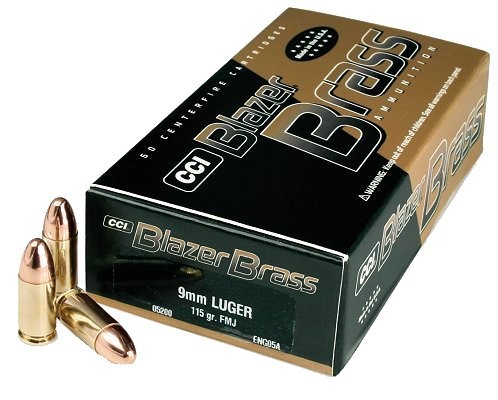 $229.80 + 16 shipping
1000 rd case, 20 x50 round boxes of Bulk 9mm CCI Blazer Brass 115 grain FMJ ammo for sale at SGAmmo.com, Brass case reloadable, American made target ammo that is priced right.
$195.00 + 16 shipping
This is new non-corrosive commercial ammo made in Lugansk Ukraine by LCW manufactured before the factory was caught up in the current war. This ammo is steel case, non-corrosive and a low-cost 9mm ammunition option for the range. Projectiles are magnetic.