Thank you for subscribing to the SGAmmo.com newsletter. If you have trouble viewing this email you can see the newsletter at this URL address: http://www.sgammo.com/special-purchase-ammo-and-new-inventory

Below you will find a list of ammunition that just recently came in at the SGAmmo warehouse that I thought were products of good value. Also, we are expecting some exciting new ammunition products and special purchase discounted deals in the coming weeks so stay subscribed for future SGAmmo newsletters. Our goal at SGAmmo.com is to be the best website for buying ammo online, with the best ammunition products that are consistently priced at some of the lowest prices online, with cheap shipping, careful packaging and smooth hassle-free transactions. Please take a few minutes and look over the online catalog at www.SGAmmo.com - Sam Gabbert - SGAmmo Owner
$209.80 + 16 Shipping
50 rounds per box, 20 boxes per case 9mm Luger Sellier Bellot 115 grain FMJ ammo. This ammo is high quality brass case, boxer primed and fully reloadable.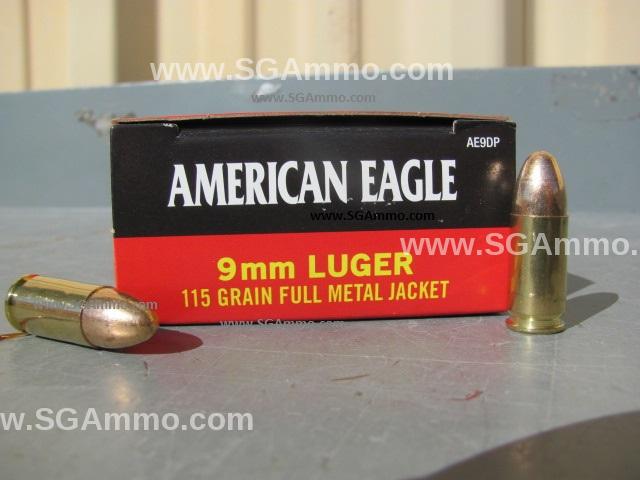 $219.80 + 16 Shipping
Federal 9mm 115 grain FMJ ammo in the American Eagle brand. Great target ammo that is made in the USA by a company you can trust for quality and reliability.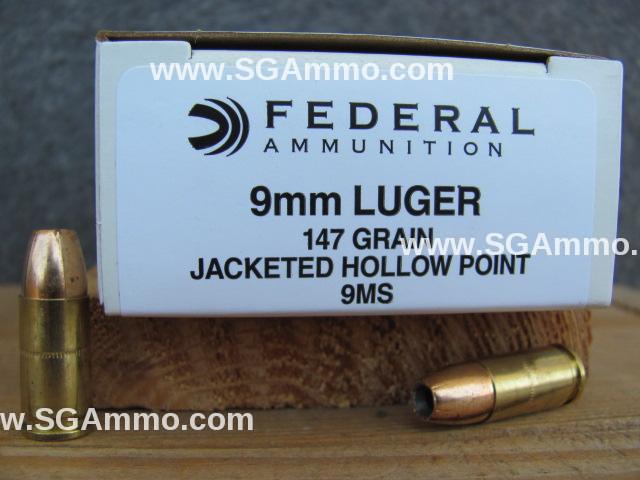 $339.00 + 16 Shipping
50 rounds per box, 20 boxes per factory case Federal LE 9mm ammo with a 147 grain jacketed hollow point Hi-Shok bullet. Brass case fully reloadable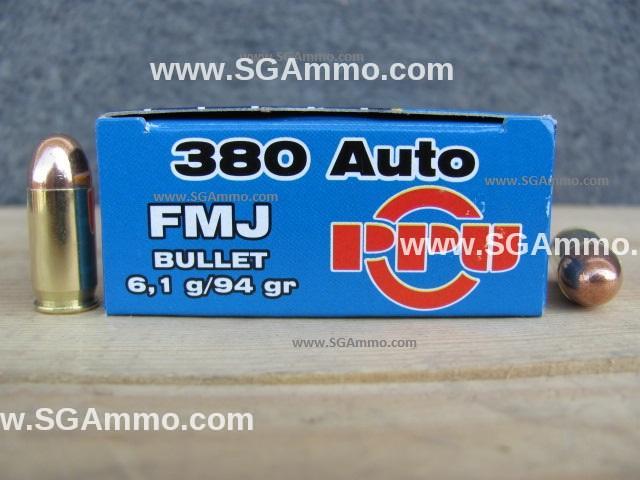 $279.00 + 15 Shipping
Brass Case, reloadable, high quality import ammo from Serbia. Prvi Partizan is the manufacturer that sets the standards for quality in European made ammunition and products are similar to Winchester, Remington or Federal in construction and characteristics
$309.80 + 25 Shipping
1000 round case of Sellier Bellot Brass case 45 Auto ammunition for sale. This ammo features a 230 grain FMJ bullet with range-safe copper jacket. These .45 Auto cartridges are brass case, reloadable and non-corrosive boxer primer. This is great target ammo and supplies are very limited. Sellier & Bellot ammunition has been made in the Czech Republic since 1825 and is one of the worlds most experienced ammo factories. If you are looking for high quality 45 ammo then this may be the ammunition for you. Top quality ammo for a competitive price.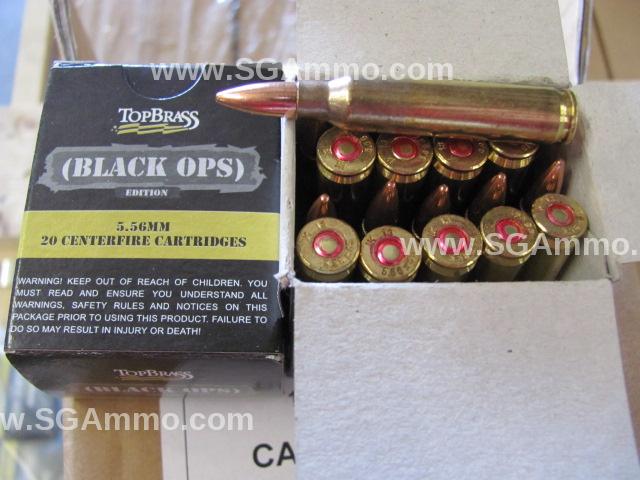 $309.50 + 16 Shipping
1000 round case, 5x200 round packs of 5.56x45 mm 55 Grain M193 Ball Ammunition - Igman from Bosnia - Brass Case - Non-Magnetic ammo for sale at SGAmmo.com. Igman ammunition is premium quality imported 5.56mm M193 ammo for AR-15 and other mil-spec rifles chambered in 5.56. This ammo is brass case and uses a non-corrosive boxer primer. The bullet is a 55 grain FMJ with copper jacketed lead core making this ammo non-magnetic and range safe. Your AR15 will rock and roll with this stuff, blast away at the range for low prices on premium quality ammunition. Ideal ammo for target practice, range use, and marksmanship in semi auto rifles. Very accurate, clean shooting and beautiful looking ammo in sealed plastic packs of 200 rounds that protect your ammo from moisture and condensation when stored in less than optimal conditions. Igman 5.56x45 ammo is a great value for quality and low price that does not come along all the time. This comes in Black Ops packaging, made under contract by Igman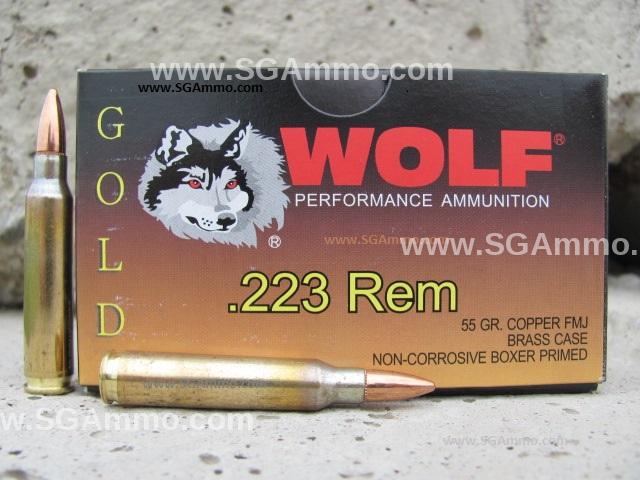 $299.90 + 16 Shipping
SALE - 1000 round case of 223 Rem 55 Grain FMJ Brass Case Non-magnetic WOLF GOLD AR-15 Ammunition for sale at SGAmmo.com. This 223 Rem Wolf Branded ammo is high quality brass case ammo made in Taiwan and offers smooth function, reliability and very good accuracy in semi-auto rifles. Featuring reloadable brass cases, sealed boxer primers, non-corrosive, non-magnetic 55 grain bullet. A great value for this type of ammo in today's market at a price that's so low its affordable to shoot or just stocking up. Ideal ammunition for use in AR-15 rifles with the application of target practice, range use, all purpose ammo, etc.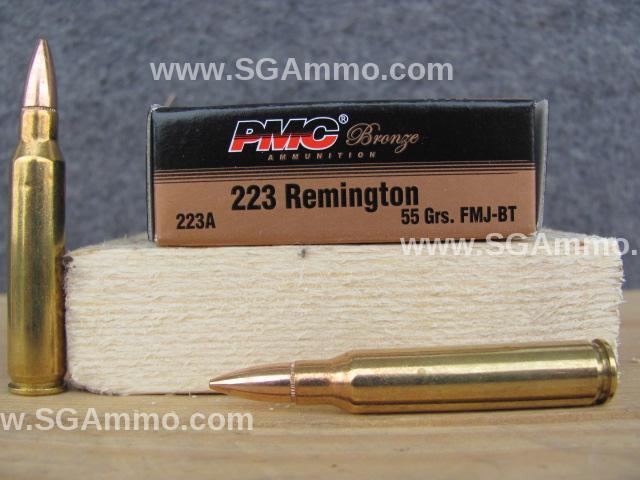 $319.50 + 16 Shipping
1000 round case of PMC brand 223 Rem 55 grain FMJ ammunition for sale at SGAmmo.com. This 223 Rem ammo by PMC is brass case, boxer primed reloadable and non-corrosive. A great ammunition option for AR-15 rifles and optimal for other semi auto rifle enthusiasts as well. PMC, Precision Made Cartridges, brings you, the shooter, the quality, dependability and accuracy you have come to expect from world-class ammunition.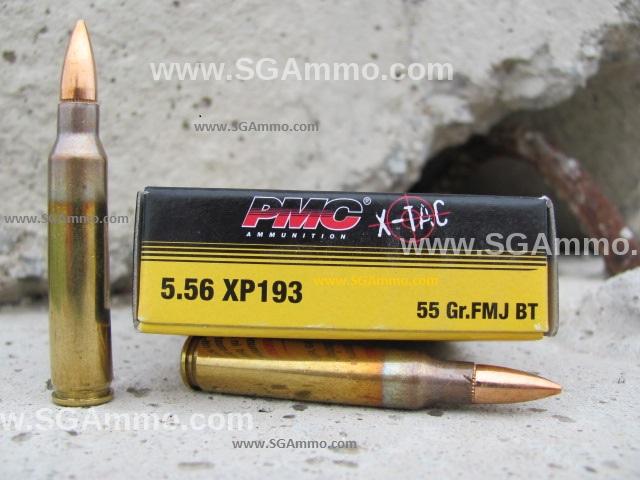 $349.50 + 16 Shipping
20 rounds per box, 50 boxes per 1000 round case PMC 55 grain 5.56mm M193 ammunition for sale at SGAmmo.com. 5.56x45 ammunition by PMC with Brass cases, fully reloadable, copper jacketed non-magnetic range-safe bullet. This is one of the best types of ammunition for use in your AR-15 or any other mil-spec semi-auto rifle in 5.56mm NATO caliber. For use in 5.56 chambers only.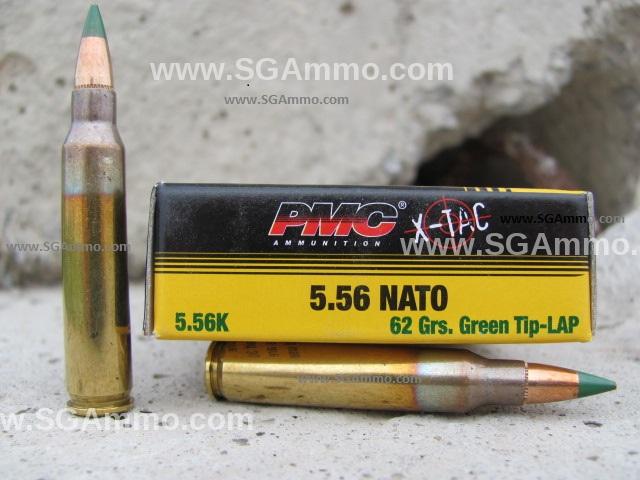 $379.50 + 16 Shipping
1000 round case of 5.56mm PMC X-TAC M855 62 grain Green Tip FMJ Ammo sku # 556K. 20 rounds per box, 50 boxes per 1000 round case. Brass case, fully reloadable, copper jacketed, steel core Light Armor Piercing (LAP) bullet. For use in 5.56 chambers only. Great M855 ammo for use in AR-15 rifles.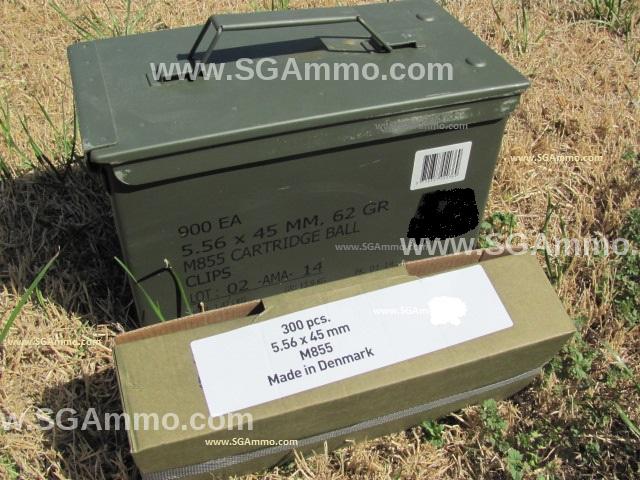 $359.50 + 16 Shipping
Here we have Danish 5.56 M855 True NATO mil-spec ammo with brass case, non-corrosive boxer primer, and recently produced military surplus ammo from AMA Denex in Denmark. Nothing commercial about this ammo, it is the real deal, military grade. Nice clean ammo in military contract packaging. The bullet is a 62 grain steel core SS109 type steel core projectile with a copper jacket to protect your barrel. This is the perfect ammo for your AR-15 rifle and comes in sealed packaging that is water and air tight, ideal for long term storage or storing in any place where conditions may not be ideal. Our customers have said that this is some of the finest and most accurate military surplus AR15 5.56 ammunition ever to see the US market. Manufactured to perfection by AMA and offered to the US commercial ammunition market by SGAmmo.com at a very low price due to a special purchase I made on this high-end NATO spec 5.56mm M855 ammo. Don't miss out, when this ammo is gone it may be a long time before another batch of true mil-spec certified 5.56mm ammo for your AR rifle will be available that you know is genuinely made to NATO spec.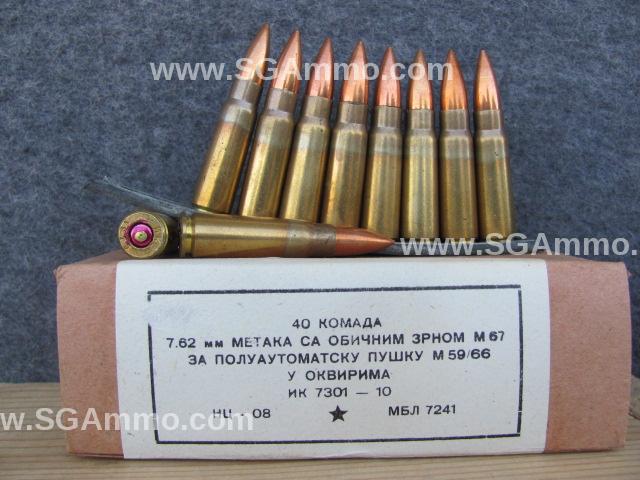 $299.50 + 28 Shipping... Running low on supply !!!

1120 Round Crate 7.62x39 Non-magnetic Copper FMJ Brass Case Corrosive Yugoslavian Surplus Ammo on SKS Stripper Clips in the original wood crate for sale at SGAmmo.com. This ammo is mostly 1970s vintage Yugoslavian with a chance at some other odd years in the mix. Yugoslavian 762x39 is some of the finest surplus ammo in this caliber and features brass cases, Berdan corrosive primers and projectiles that are copper jacketed lead core and totally non-magnetic for range-safe shooting at most indoor and California ranges. If you were looking for the best surplus 7.62x39 Ammunition for your AK-47 then the Yugoslavian is one of the best choices because it is true mil-spec, sealed primer and projectile, brass case, and just a tad hotter of a load than the typical steel case options. Please note that while the vast majority of this ammo will come in the sealed tin within the crate there is a chance at receiving tins that have been opened within the crate. Packed 40 rounds of ammo per box on 10 round SKS stripper clips, 1120 rounds per crate.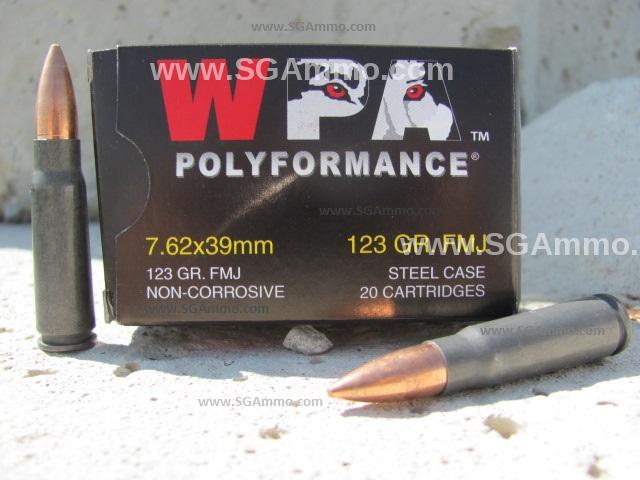 $229.50 + 22 Shipping
This ammo is high quality 7.62x39 ammunition with a steel case, non-corrosive primer and a magnetic FMJ bullet. This 762 AK ammo is ideal for target shooing and range use. This ammo is also a great choice for just stocking up on at a good price. The ammo is polymer coated steel case for smooth function and extraction, the bullet is bi-metal jacketed and lead core (magnetic projectile).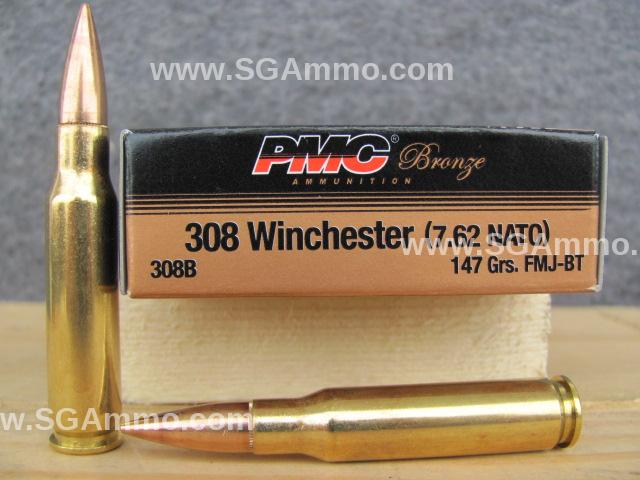 $309.50 + 16 Shipping
This .308 Winchester caliber ammo features Brass case, Boxer primer, and is New production reloadable ammo for about the same price you might pay for questionable military surplus. This is very very nice ammo for your M1A, AR-10, HK91, and various other 308 / 7.62 Nato chambered rifles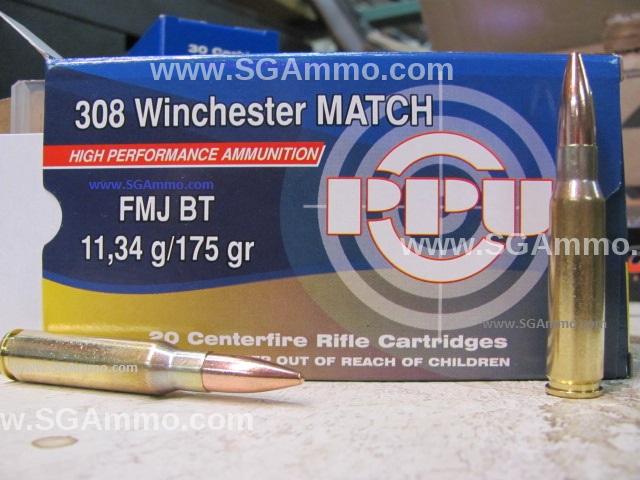 $349.75 + 16 Shipping
20 rounds box, 25 boxes per case 308 Match 175 grain FMJ Prvi Partizan Ammo # PP32. This is some of the highest quality import ammo and priced right too. Brass case, fully reloadable affordable match grade ammo made in Serbia.
$289.50 + 28 Shipping
870 Round Open Crate of 7.62x54R 182 Grain FMJ Yugo Surplus Ammo For Sale at SGAmmo.com with Brass Cases and Non-magnetic Bullet. This is Yugoslavian Surplus 7.62X54R M30 Ball ammunition made from the 1970s to 1990s by Prvi Partizan. From what I have seen it is mostly 1986 manufacture but there is older and newer ammo in the mix and no special date selection is available. Yugoslavian M30 ball ammo is rarely seen in the US commercial market yet widely regarded as the best of the best when it comes to surplus 7.62x54R ammo, and features beautiful annealed brass case construction that looks like brand new commercial ammo. The primers are Berdan Corrosive and lacquer sealed to prevent moisture form penetrating the cartridge and increasing long term shelf life and serviceability of this ammo. The projectile of this fine 7.62x54R ammo is also highly desirable especially for California clients as the bullet is 100% non-magnetic and range safe for all those CA and indoor shooting ranges that do not allow magnetic projectiles.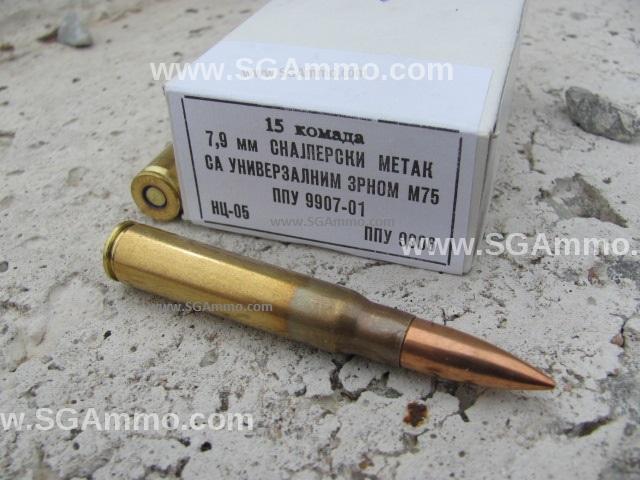 $98.95 + 12 Shipping
180 round pack of 8mm Mauser M75 Sniper 196 Grain Copper FMJ-BT Yugo Surplus Ammo made in Serbia by Prvi Partizan in 1999. This is extremely fine quality surplus ammo. Beautiful brass case, copper jacketed lead core bullets that are non-magnetic. Berdan primers assumed to be corrosive, as you should assume with any surplus 8mm Mauser ammo. 15 Rounds per box, we repackaged 12 boxes of this ammo into a carton to make a 180 round pack. If you are looking for the best 8mm Mauser surplus ammo that money can buy you found it for sale here at SGAmmo.com, truly some of the finest 7.92x57 ammunition ever made anywhere in the world. Again this ammo has a non-magnetic projectile that is range safe in California and all those indoor ranges where magnetic bullets are prohibited. This is ideal ammo for all Yugo and German Mauser rifles, M-76 semi-auto sniper rifles, belt fed machine guns.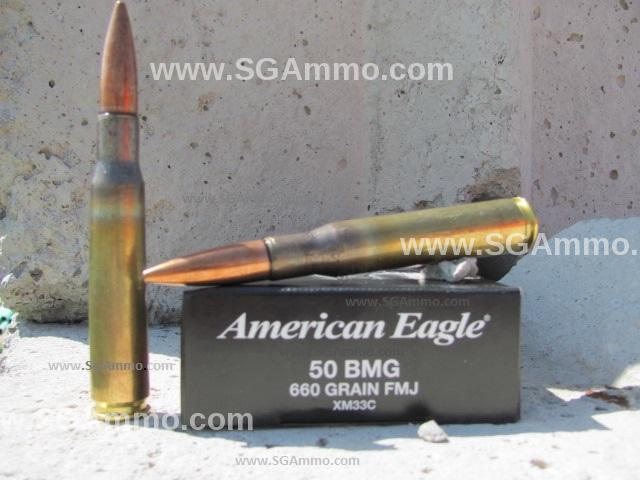 $239.50 + 16 Shipping
100 rounds of Federal Lake City 50 caliber ammunition in 10 round boxes for sale at SGAmmo.com. This .50 BMG caliber ammo is FMJ M33 Ball. This ammo is in Federal Packaging. Recent production. This ammo is boxer primer, non-corrosive and should reload well. 100 rounds in a full case. This is the ideal 50 BMG cal ammo for target/range use, long term stock-piling and all purpose shooting. A perfect ammo choice for your Barrett M82, Armalite AR-50 or other 50 caliber rifle.