Thank you for subscribing to the SGAmmo.com newsletter.
If you have trouble viewing this email you can see the newsletter at this URL address: http://www.sgammo.com/9mm-pistol-ammo-cci-17-hmr-40-sw-and-223-match-75gr-prvi-partizan-57x28-ss198-greentip-and-more

At SGAmmo it is an exciting time moving forward in 2015 with new deals coming on new ammunition product lines of great value. I just got back from spending a few days at the firearms industry trade show, 'Shotshow' in Las Vegas, and I was able to make some deals on several types of ammo that I think will be nice additions to our business and bring our customers new high-value options when buying at SGAmmo. It will take a few weeks or more to see those new items show up, but I will have them in future newsletters as they arrive. Although visiting the Shotshow in Vegas was great there is still no place I would rather be than here in the SGAmmo warehouse managing our ammunition inventory, taking care of customer orders and responding to emails from SGAmmo users and I look forward to serving our customers in this new year. Below you will find a list of ammo I have in-stock today that I thought were a good value or interesting. We also have many other interesting types of ammo and other items of good value on our website so please take a few minutes and look over the online catalog at www.SGAmmo.com - Sam Gabbert - SGAmmo Owner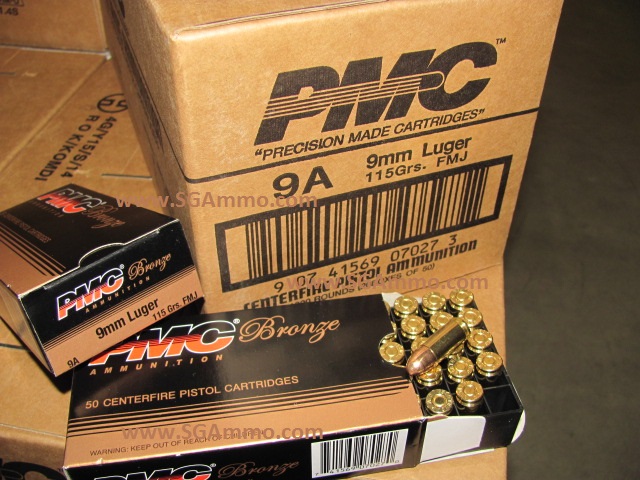 $219.80 + 16 shipping
50 rounds per box, 20 boxes per case 9mm Luger PMC brass case, boxer primed ammo with a range-safe non-magnetic 115 grain FMJ bullet. This is one of the best values for high quality target / range ammunition for sale in the US market. All PMC cartridges pass rigorous inspection at PMC's electronic powder-check station, which instantly and accurately measures the propellant charge in each round. If the propellant in any cartridge varies by as little as two-tenths of one grain, the system stops, and the cartridge is discarded. No other ammunition manufacturer can assure greater uniformity and reliability than PMC. PMC Full Metal Jacket cartridges incorporate a lead core bullet enclosed in a heavy copper topcoat, resulting in little to no expansion and deeper penetration of the bullet. PMC-FMJ provides smooth, reliable feeding in all types of semi-auto handguns. This is ideal ammo for all purpose training and target practice available at a low price.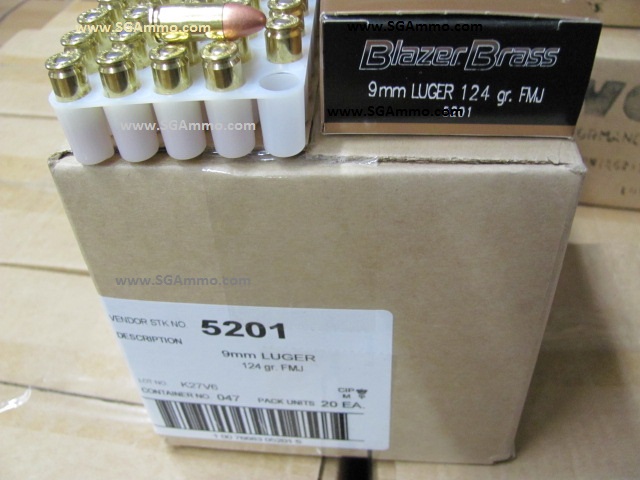 $225.00 + 16 shipping
1000 rd case, 20 x50 round boxes 9mm CCI Blazer Brass 124 grain FMJ ammo 5201. Brass case reloadable, American made target ammo that is priced cheap at SGAmmo.com.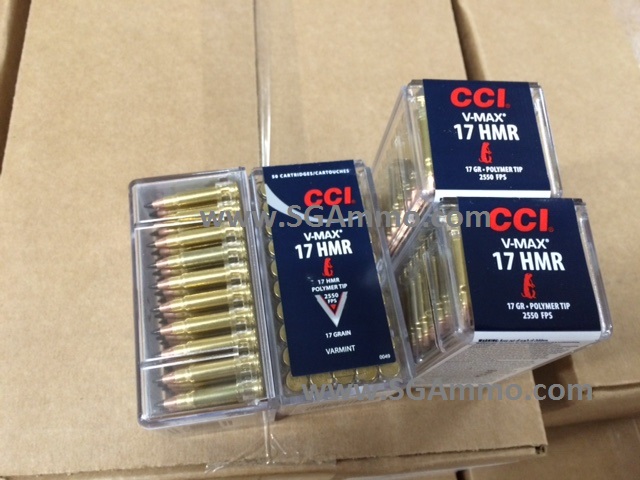 $124.90 + 12 shipping (shipping cost is based on weight with a $12 minimum for up to 12 pounds of ammo. This stuff is light and shipping cost for 2 bricks together is also $12)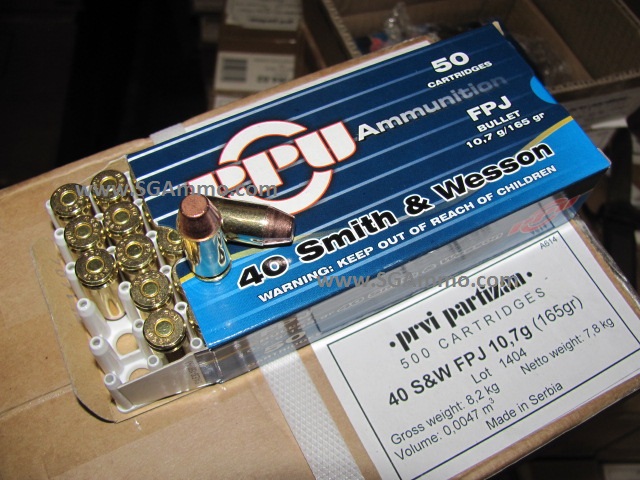 $149.50 + 14 shipping
Brass case premium quality target ammo that is priced right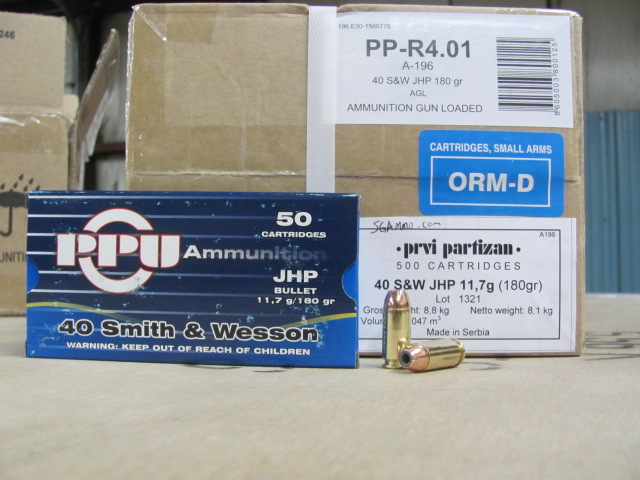 $149.50 + 14 shipping
500 round case of 40 S&W caliber 180 grain JHP Hollow Point Prvi Partizan Ammo for sale. This is premium quality target ammo that is priced right. Prvi Partizan ammunition is brass cased, boxer primed and non corrosive. This value priced 40 cal ammo is ideal for training and target practice or a low-cost option for personal protection. Prvi Partizan offers some of the best quality ammo at some of the lowest prices in the business for comparable ammunition. The projectile used is a range-safe non-magnetic copper jacketed lead core bullet. Prvi Partizan ammunition is of quality similar to many popular American made products and is one of the premier brands from Europe. Ammunition of great value from a manufacturer with a long history of quality. At SGAmmo.com our goal is to be one of the best online dealers of ammunition. We only accept orders for in stock ammo and ship orders quickly by UPS ground, no back-orders, no hassles, just an easy online transaction for ammunition that is in-stock and competitively priced.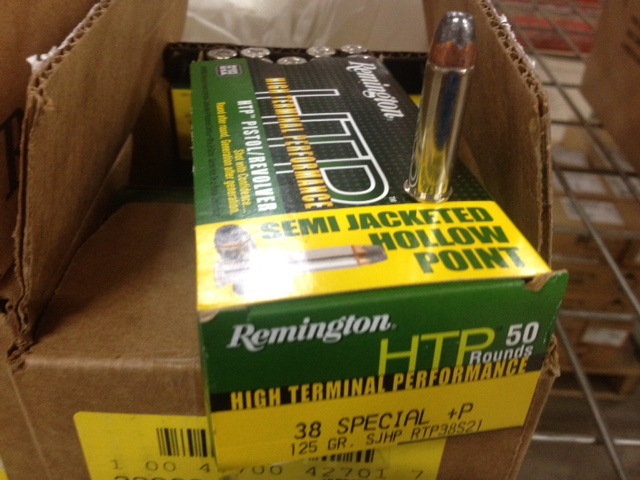 $179.50 + 14 shipping
A great value for American made high quality 38 Special all purpose ammo suitable for personal protection, and priced low for guilt-free target practice use. Why buy regular FMJ or Lead Target ammo when you can get a higher quality hollow point cartridge for about the same price?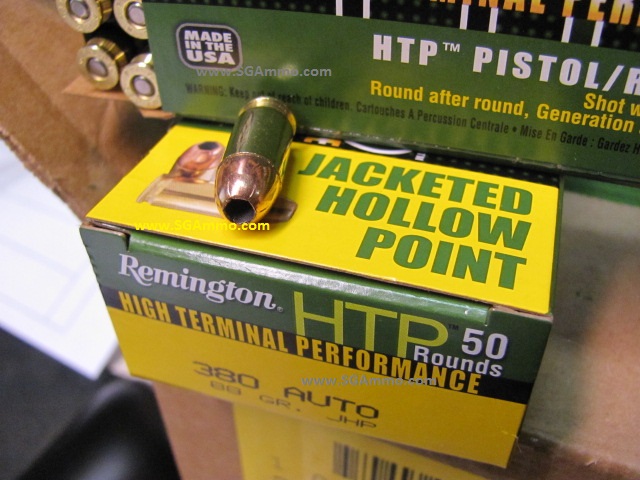 $179.50 + 12 shipping
500 round case of 380 Auto 88 Grain Jacketed Hollow Point Remington HTP Ammo item number RTP380A1. This is economically priced 380 hollow point ammo for personal protection or all purpose shooting.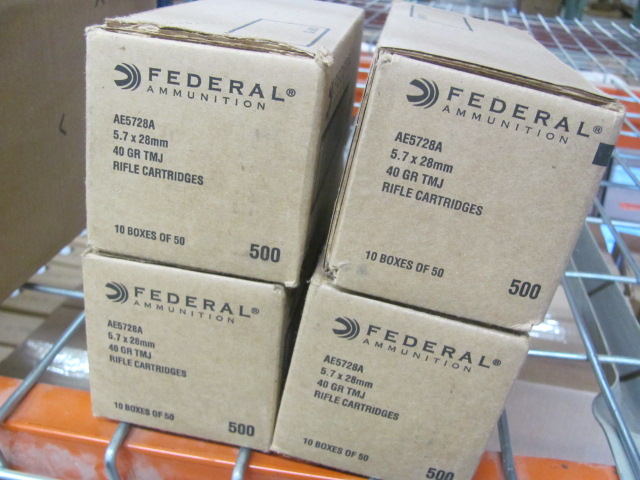 $199.50 + 12 shipping
500 round case of 5.7x28 40 Grain TMJ or FMJ bullet Federal Ammo item number AE5728A for sale at SGAmmo.com, the best website for buying ammo online.
$349.50 + 12 shipping
This 5.7x28 ammo is normally available for "Law Enforcement and Military Use Only", we were able to get a small lot of this ammunition that was up for grabs to the civilian market. If you want high performance 5.7 ammo at a reasonable price then this is the good stuff. Ideal 5.7 ammo for personal protection, concealed carry and law enforcement, but affordable enough that you can shoot some at the rage too. This is a high velocity, high performance 5.7x28 ammo load with a 27 grain green-tip hollow point bullet.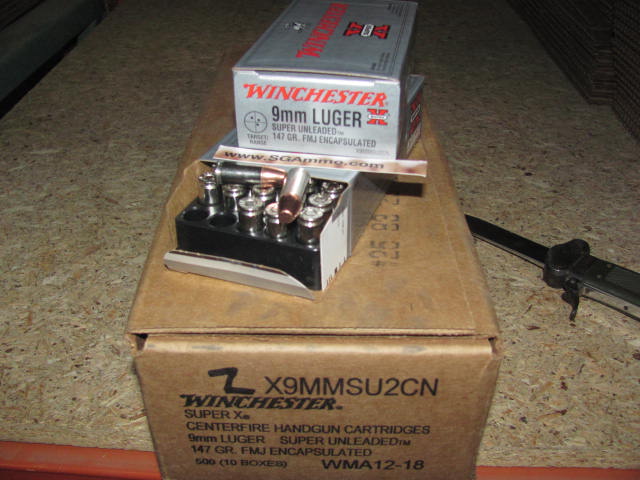 $149.50 + 14 shipping
Government contract overrun ammo available in limited supplies. This ammunition features a nickel plated brass case, boxer primer and a 147 grain Copper jacketed lead core bullet. This ammo is ideal for training and target practice and is also subsonic so it will quietly also work in your NFA registered silence / sound suppressor, but otherwise great target ammo for range use in any 9mm Luger caliber pistol. High volume handgun shooters who want top quality 147 grain subsonic 9mm Luger ammunition look no further, this is one of the best options for subsonic ammo available online. We have had this popular ammo available to us only a few times over the years and supplies are limited in the commercial ammunition market.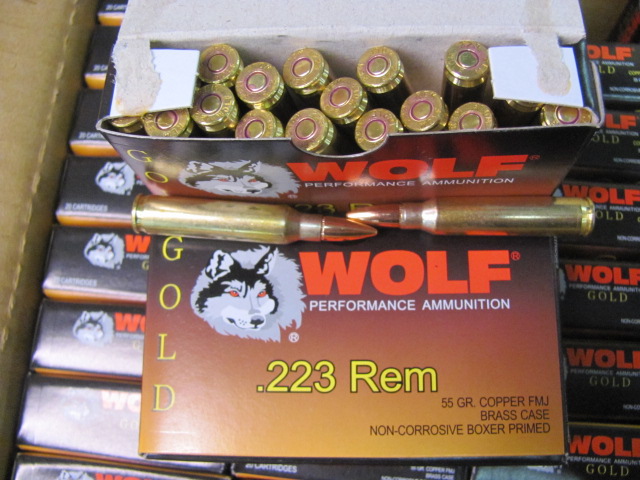 $279.50 + 16 shipping
This 223 Rem Wolf Branded ammo is high quality brass case ammo made in Taiwan and offers smooth function, reliability and very good accuracy in semi-auto rifles. Featuring reloadable brass cases, sealed boxer primers, non-corrosive, non-magnetic 55 grain bullet. A great value for this type of ammo in today's market at a price that's so low its affordable to shoot or just stocking up. Ideal ammunition for use in AR-15 rifles with the application of target practice, range use, all purpose ammo, etc. Buy Wolf ammunition with confidence, Wolf ammo is backed by the importer with a 100% satisfaction guarantee, if you are not happy with the products performance Wolf will buy it back for a full refund.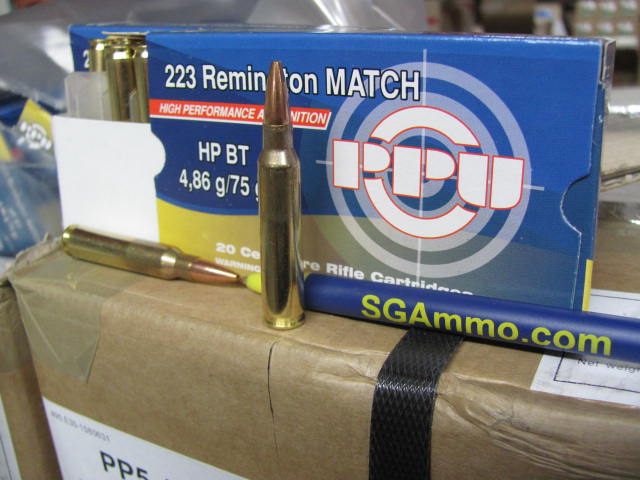 $495.00 + 16 shipping
1000rd case of 223 Match 75 grain BTHP Match Prvi Partizan Ammunition for sale at www.SGAmmo.com, the best #1 online site for buying ammo on the internet. We only accept orders for in-stock ammo that is ready to ship, and provide quick efficient order processing as well as careful packaging and shipping of your ammunition by UPS ground. Make sure to review all my 223 and 5.56mm ammunition and other products before you buy, we stock one of the best selections of popular types of pistol, rifle and shotgun ammo for personal protection, law enforcement, and target practice / range use. PPU Match Line ammunition is designed for accurate shooting in shorter and longer distances. The exceptional accuracy of PPU Match ammunition is the special production procedures and control which make possible the manufacture of parts with very narrow tolerances. PPU Match components are made with materials of high quality and on special equipment. For loading ammunition we use reliable primers of uniform quality and carefully chosen powders so that they provide consistent ballistic characteristic. Rigorous final control ensures that our buyers get only the ammunition which completely fulfill their expectations. This ammo is of course brass case, boxer non-corrosive primer, reloadable and non-magnetic projectile for range-safe fun where ever you go to shoot. Prvi Partizan offers match ammo to the US market at the best price by a long shot. One of the great values in 223 Rem BTHP match ammo. Highest quality imported from Serbia, this one of the most trusted manufacturers in Europe, Prvi Partizan.
$219.50 + 16 Shipping
1000 round case -of 223 Rem FMJ 55 Grain Steel Case Wolf Ammo Made in Ukraine for sale online at SGAmmo.com the website with low ammunition prices and high quality products in-stock. This ammo is early 2013 production ammo from Ukraine LCW factory made before the civil war disrupted supply. The importer held this ammo back and finally released it in the last few weeks. Nice steel case ammo with non-corrosive berdan primers, poly coated cases, and bi-metal jacketed lead core bullets that are magnetic.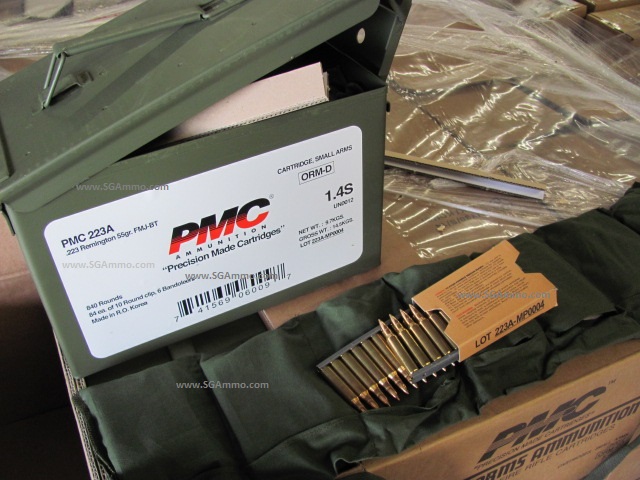 $259.94 + 16 shipping .... LAST CHANCE AT THIS PRICE
840 round can of 223 rem 55 Grain FMJ-BT Ammo by PMC on AR15 Stripper Clips and Bandoliers in Ammo Can for sale at SGAmmo.com, the website with the best 223 ammo prices and availability online, quick careful shipping and a great selection of ammunition to choose from. Make sure to review all of my 223 and 5.56 ammo for sale at www.SGAmmo.com. This 223 Remington caliber ammo made by PMC is brass case, non-corrosive and reloadable boxer primer, packed in super cool military-like packaging with cloth bandoliers, AR15 / M16 stripper clips in a USGI style M2A1 steel resealable ammunition canister. If you are looking for the complete ammo package for your AR-15 rifle for taking to the range, long term storage, or just the best value for 223 ammunition online, then here is the deal for you.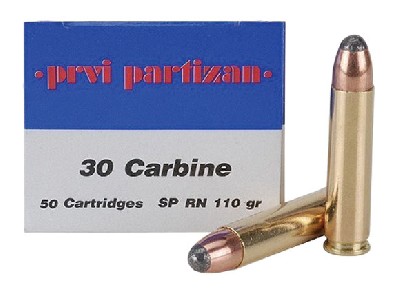 $197.50 + 14 shipping
Here we have a great quality 30 cal soft point ammo option available at a very ow price when compared to similar ammunition of other brands. This option is not always around so stock up while you can if you need a hunting load for your M1 Carbine rifle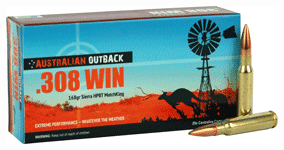 $149.50 + 12 shipping....Running Low

What a bargain !!! The importer made a sacrifice deal on this ammo which was retailing at a MAP price of $27.75 per box, thanks to the closeout deal and SGAmmo buying power I have been able to secure a lot of this high-quality match grade 308 ammo at almost half the original MAP price. Do not miss out on this limited supply deal on Match grade 308 Win ammo that offers performance that meets high expectations and at an affordable price.
Remember - Shipping cost is based on total order weight and is not fixed per case, so you can combine multiple items within one package for shipping discounts. A few examples, Ship 2 cases of this for $15 to bring the average shipping cost per case to $7.50, or ship 5 cases of this ammo for $26 to bring shipping cost per case down to $5.20.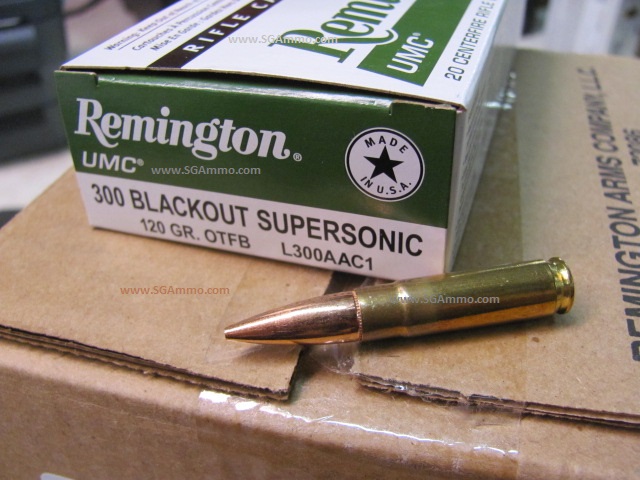 $159.50 + 12 shipping
200 round case of 300 Blackout 120 Grain OTFB Open Tip Supersonic Remington UMC Ammo item number L300AAC1 for sale at SGAmmo.com, your best online store of 300 BLK ammunition with cheap prices and lots of in stock options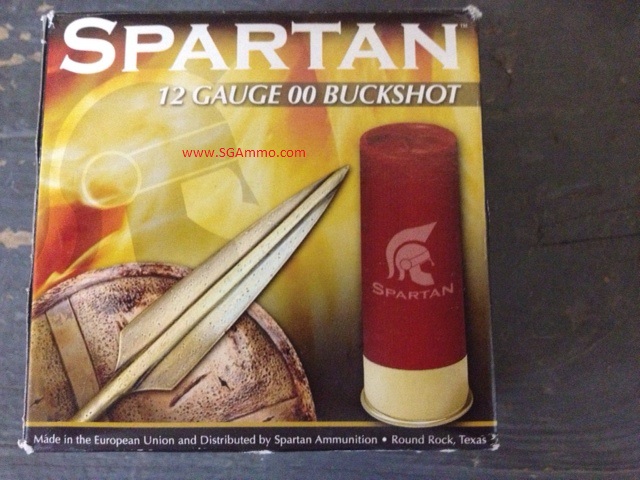 $99.50 + 16 shipping
Velocity per my sources was quoted to be 1315 FPS. Made in Italy. Great low cost buckshot for all purposes, blasting, hunting, personal protection