Thank you for subscribing to the SGAmmo.com newsletter.
If you have trouble viewing this email you can see the newsletter at this URL address: http://www.sgammo.com/bulk-556mm-ar-15-ammo-stock-plus-other-ammunition-arrivals

Below you will find a list of in-stock bulk ammo for sale online at SGAmmo.com, all of which I thought were priced right and of good value. If you do not need a full case or would prefer to mix an order with a few different types of ammunition in smaller quantities then keep in mind that we also sell these items by the box. At SGAmmo we just got a shipment of IMI manufactured Independence branded 5.56mm XM193 ammunition for AR-15 rifles. This ammo features a brass case and a 55 grain lead core bullet and is an ideal option for target, range, varmint hunting and all purpose shooting. Recently the ATF proposed to 'ban' from import or commercial manufacture the very popular type of AR-15 ammunition know as 'M855' and the ruling is to be made in late March 2015. This has caused a strong rush of sales on all 223 and 5.56 ammo over the last 7 days and we expect to see 5.56mm supplies in the market dry up in the short term. Fortunately we have secured a decent sized lot of this item and we are holding the price down low to keep it affordable to keep you shooting those AR15 rifles a while longer. Here is a chance to buy high quality brass case ammo for your AR-15 that is still priced right. Keep in mind that this product is 'M193' type 5.56mm ammo and is not part of the ATF ban proposal so availability for this M193 type of 5.56 will only be effected by demand issues. We have many other interesting types of ammo and other items of good value on our website so please take a few minutes and look over the online catalog at www.SGAmmo.com - Sam Gabbert - SGAmmo Owner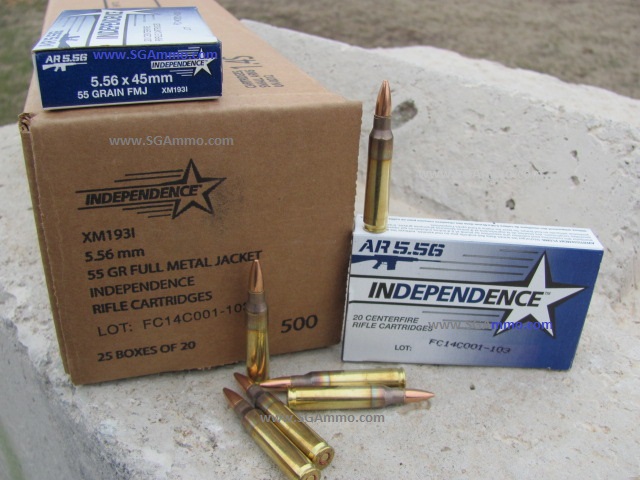 $339.00 + 16 Shipping
XM193i Ammunition is an ideal 5.56 ammo choice for shooting in your AR-15 rifle. This ammo is made by IMI in Israel under contract for Federal ammunition / ATK. Independence XM193i is one of the best types of all purpose target ammo for training, range use, or just shooting for fun. Also a great type of 5.56mm 55 grain Ball ammunition just for storing back for a later day. Independence ammunition gets you good accuracy, top-tier reliability, smooth function for semi-auto rifles chambered in 5.56. The ammo is brass case, boxer primer, non-corrosive, reloadable and recently produced with nice clean looking construction. Fine quality target ammo made by Israeli Defense Industries. Don't miss your chance to buy one the best imported 5.56x45 ammunition loads in the current online ammo market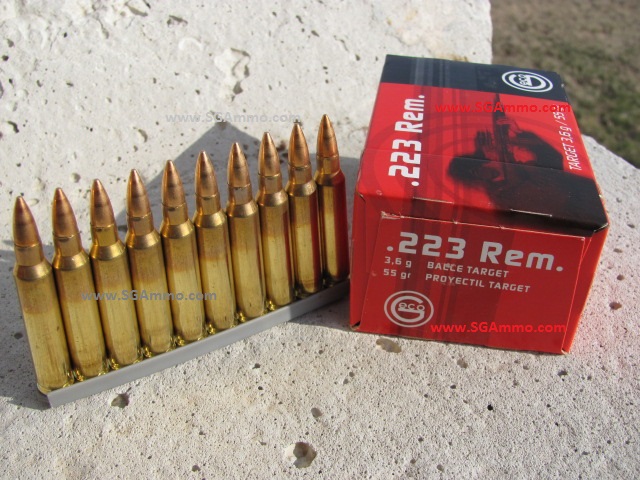 $329.80 + 16 shipping.. LAST CHANCE AT THIS PRICE... Price is going up to $339 on the next shipment.

223 Rem 55 Grain FMJ Brass Case Swiss made Geco Ammo for sale at SGAmmo.com, your best online source for 223 Ammo for AR-15 rifles. This high quality ammo is made in Switzerland featuring a 55 grain FMJBT bullet with copper jacket and a lead core non-magnetic projectile that is range safe. The cartridge also features an annealed brass case with crimped in boxer primers that are lacquer sealed. The case mouth is also sealed to help water proof the ammo. The ammo is loaded on plastic stripper clips, but from my testing the clips are not compatible with USGI guide tools so you may have to remove the rounds from the clips manually to load your mags, or find an alternative loading tool or modify a USGI guide tool. This is very very nice 223 Rem ammo for your AR-15 rifle or any 223 caliber firearm. Ballistic data shows 3313 FPS muzzle velocity out of a 23.6 inch barrel.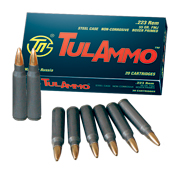 $229.50 + 16
(20 rounds per box, 50 boxes per case) or (100 rounds per box, 10 boxes per case) This ammo is made by Tula Cartridge Works in Russian with polymer coated steel cases and non corrosive primers. The projectile is a 55 grain FMJ bullet with a lead core and magnetic bi-metal bullet jacket.
$398.75 + 16 Shipping
20 rounds box, 25 boxes per case 308 Match 175 grain FMJ Prvi Partizan Ammo # PP32. This is some of the highest quality import ammo and priced right too. Brass case, fully reloadable affordable match grade ammo made in Serbia.
$637.50 + 26 shipping
Very nice Mil-spec type 308 FMJ ammo. Non-magnetic bullet, reloadable brass, in sealed 200 round packs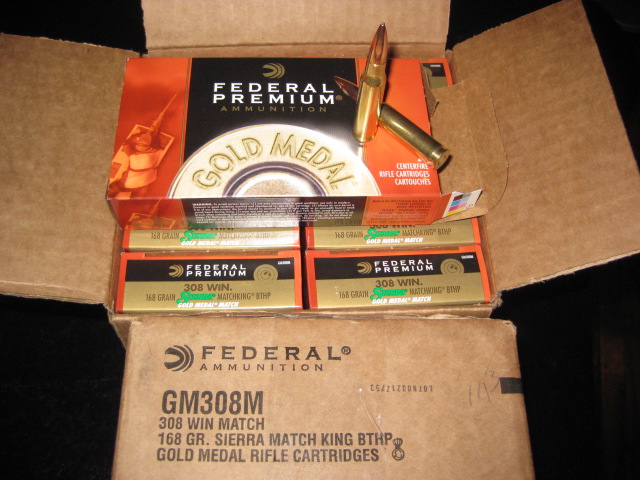 $239.50 + 12 shipping
200 rounds, a factory full case (10x20 round boxes) Federal 308 Match ammo with a 168 grain Sierra boat-tailed hollow point bullet.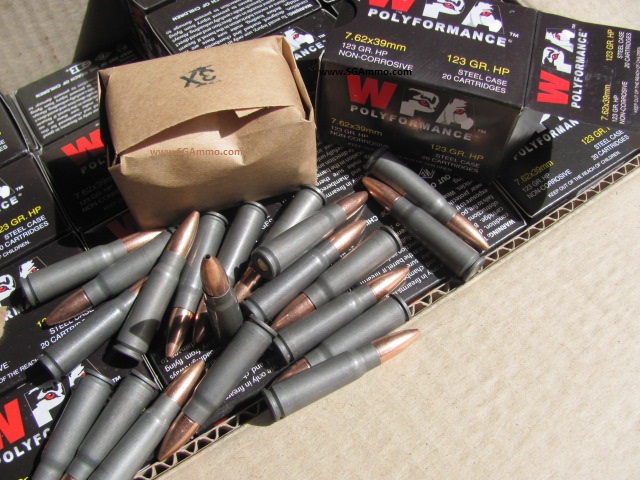 $219.90 + 22 shipping

This Wolf 7.62x39 ammo offers a great value to the high-volume shooter of AK-47 and SKS rifles. This is all-purpose ammo made for hunting, target practice, and general shooting. The hollow projectile in this load makes a great low cost hunting ammunition option. Have a blast at the range shooting ammo for cheap prices with wolf and buy Wolf ammo with confidence. Wolf offers a 100% satisfaction guarantee direct from the importer. If you are not happy with your wolf ammo, the importer will buy it back and even pay for return shipping. This 7.62 ammo features steel cases that are poly coated for easy feeding and extraction, a non-corrosive berdan primer, and magnetic JHP bullet with a lead core. If you love to shoot your AK's there will never be a better time to get stocked up on 7.62x39 ammo than today while the market conditions offers low ammunition prices and lots of in-stock selections to pick from. Make sure to review all the 7.62x39 ammo we have fore sale at SGAmmo.com before you buy, the online store with the best selection of 7.62x39 AK ammo on the internet.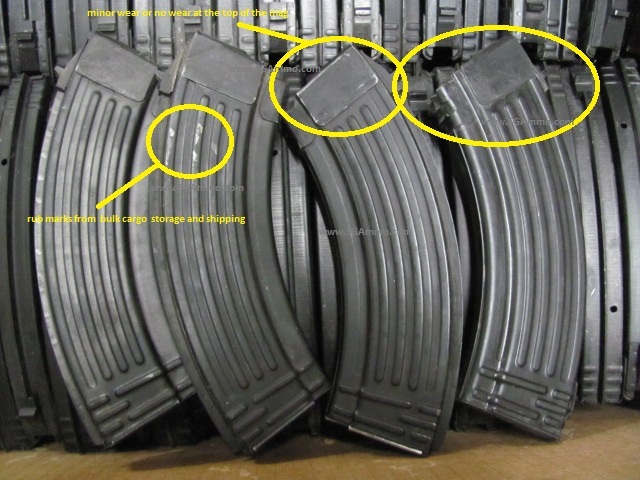 $12.95 each, 10+ for $11.95 each
These are our finest quality AK47 Mil-spec mags, We also have some used condition mag 10 packs for a lower price, as well as one of the best selections of other quality AK magazines in stock

These AK mags are Hungarian made for 7.62x39 AK-47 mags, made for military contract during the cold-war era. They are "sanitized" meaning no proof marks to indicate the manufacturer as is customary with certain export contract sales material. There may possibly be some odd mags in the mix that could be Romanian, E. German, Hungarian, Bulgarian, Russian, Polish, Etc, Etc. These are true mil-spec steel mags, not garbage-like new commercial production AK mags often sold elsewhere. Condition varies excellent to like new, the grade is based on finish wear on the mag body and follower, these mags may show signs of light use such as light streaking of the follower and light finish loss where the mag is inserted into the mag-well, some may show no signs of use at all. There may be some mags with rub marks and wear from storage or cosmetic blemishes due to age, possible some very small rust spots due to age, but overall the vast majority of these mags are close to perfect condition, if you buy a larger lot expect some variation in condition mag to mag. Some mags may be grease packed and need cleaning, but most mags are clean, dry and free of oil and grease. These mags are of the finest grade of military surplus and should really sell for $18 to $25 each, but l made a great deal on these mags and I am passing the special purchase on. In 14 years of business I have never had nicer surplus AK mags to offer my clients.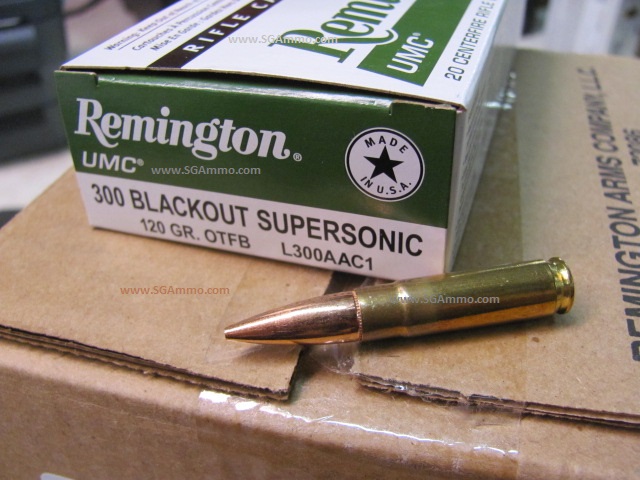 $159.50 + 12 Shipping
200 round case of 300 Blackout 120 Grain OTFB Open Tip Supersonic Remington UMC Ammo item number L300AAC1 for sale at SGAmmo.com, your best online store of 300 BLK ammunition with cheap prices and lots of in stock options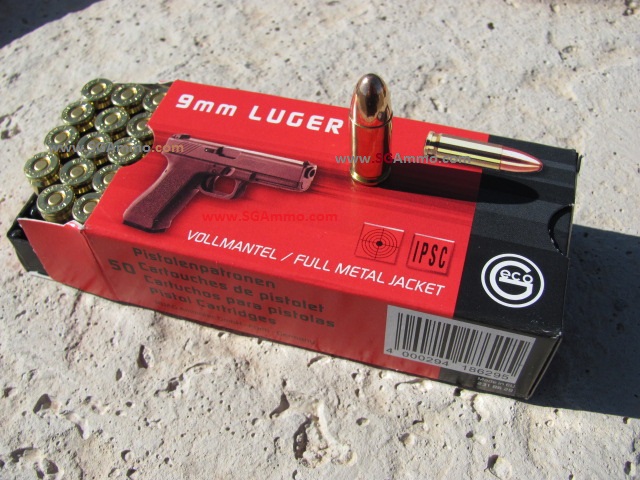 $219.80 + 16 shipping
1000 round case of 9mm Luger 115 Grain FMJ Brass Case Ammo by Geco. Made in Hungary. Brass Case, Boxer primer, non-corrosive, non-magnetic projectile. This is high quality imported ammo for all purpose target and range shooting.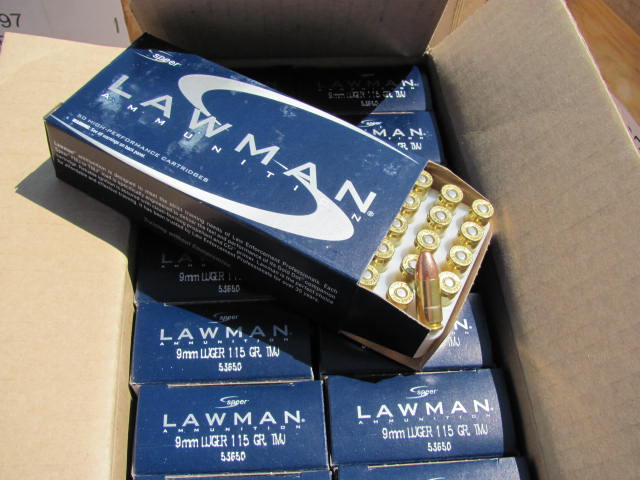 $234.80 + 16 Shipping
1000 rounds per case, 50 rounds per box. 9mm Speer Lawman 115 grain TMJ ammo, reloadable brass case, boxer primer, premium target ammo. Speer Lawman 9 mm Luger ammunition has a TMJ (total metal jacket) bullet for reduced lead exposure and a cleaner shooting experience. Speer Lawman ammo is the perfect choice for range use and all purpose ammo for shooting sports. This has been one of our most popular types of 9mm ammunition for as long as we have carried it. Once active range / target shooters try using Lawman in their handgun they often come to prefer it over other brands and consider it to be the finest option for target ammo that is made in the USA.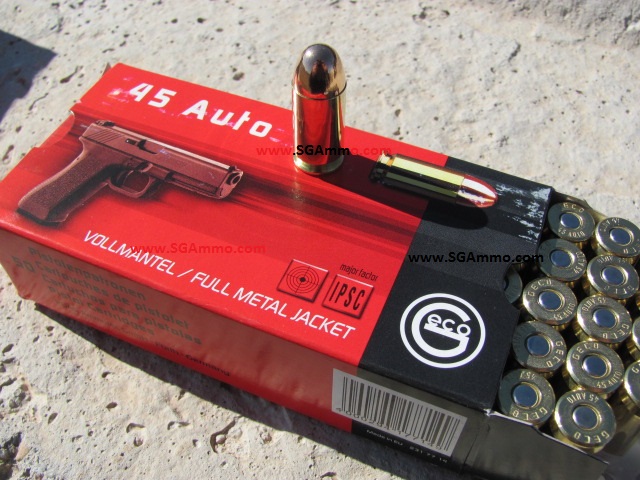 $319.00 + 25 Shipping
1000 round case of 45 Auto 230 Grain FMJ ammo made by Geco in Hungary. Brass Case, Boxer primer, non-corrosive, non-magnetic projectile. This is high quality imported ammo for all purpose target and range shooting.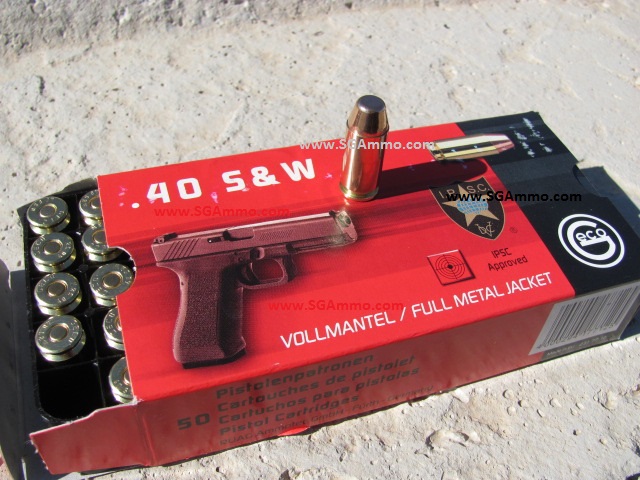 $289.80 + 22 Shipping
1000 round case of 40 SW Caliber 180 Grain FMJ Brass Case Ammo by Geco - Made in Hungary. Brass Case, Boxer primer, non-corrosive, non-magnetic projectile. This is high quality imported ammo for all purpose target and range shooting.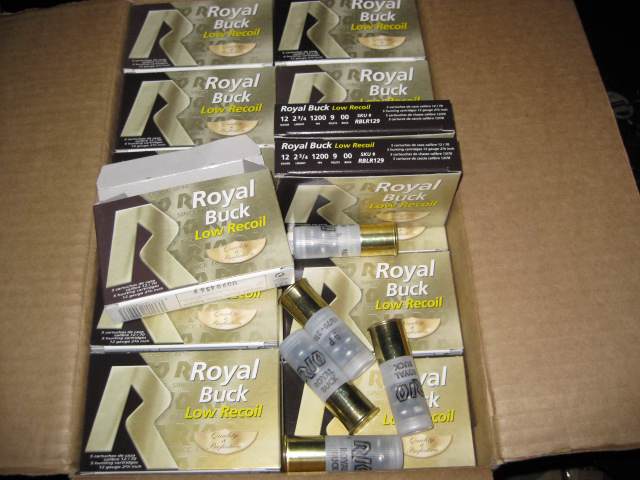 $109.50 + 16 Shipping
250 round case of 12 Gauge RIO Low Recoil 2.75 inch 00 Buck Shot 9 pellet ammo for sale. RIO brand buckshot ammunition. This Buckshot features 9 OO size pellets and a velocity of 1200fps. It also has a clear hull for easy identification. This is low pressure buck shot and should work well in many types of shotguns but is designed with pump action guns in mind. This ammo is made in Spain, by RIO, one of the worlds largest manufacturers of shot shells. RIO has been in business for over 110 years and offers a quality product at a very competitive price.