32 Winchester Special Ammo For Sale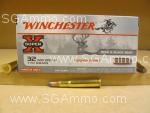 SGAmmo.com | Buy 32 Winchester Special Ammo Online | 32 Winchester Special Ammo for sale | The .32 Winchester Special or 32 Win Special is a rimmed cartridge created in October 1901 for use in the Winchester Model 94 lever-action rifle. This cartridge is based on the .30-30 Winchester cartridge of 1895, but differs from the .30-30 in bullet diameter. More significantly, Winchester decreased the rate of rifling twist in their Model 94 rifle, from 1:12 when chambered for the .30-30 to 1:16 when chambered for the .32 Winchester Special. Winchester used the slower twist to reduce fouling retention when creating a new cartridge for sportsmen who wanted to reload their own ammunition using black powder and cast bullets.
Sorry, all options in this caliber are currently sold out, please check back later.