325 WSM Ammo For Sale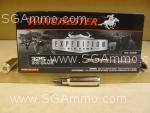 SGAmmo.com | Buy 325 WSM Ammo Online | 325 WSM Ammo for sale | The .325 Winchester Short Magnum, commonly known as the 325 WSM is a 8mm caliber rebated rim bottlenecked centerfire short magnum medium bore cartridge. The cartridge was introduced by Winchester Ammunition in 2005. The name of the cartridge is a misnomer as the bullet diameter is .323 in (8.2 mm). Introduced at the 2005, it is the largest member of the Winchester Short Magnum family of cartridges. The .325 WSM was intended for the hunting of medium and large bodied thin skinned dangerous and non-dangerous big game animals of Africa, Asia, Europe and North America.
Sorry, all options in this caliber are currently sold out, please check back later.