22 Remington Jet For Sale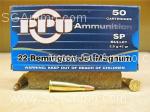 The .22 Remington Jet (also known as .22 Jet, .22 Center Fire Magnum, or .22 CFM) is a .22 in (5.6mm) American centerfire revolver and rifle cartridge. Developed jointly by Remington and Smith & Wesson, it was to be used in the Model 53 revolver, which first appeared late in 1961. The .22 Jet was designed as a flat-shooting hunting round for handguns, and it is suitable for handgun hunting of varmints and medium game out to 100 yd.
Sorry, all options in this caliber are currently sold out, please check back later.